Home
Working Groups
Pacific Bluefin Tuna (Previous version)
Pacific Bluefin Tuna Working Group
General Information
The Pacific Bluefin Tuna Working Group (PBFWG) was established since the foundation of ISC. First formal stock assessment was conducted in May 2008. The working group is focusing the preparation of the most recent full stock assessment was completed in 2012. In late 2013 by the collaboration of Albacore WG, PBF WG scheduled to hold a workshop for age and growth of tunas in the north Pacific, targetting north Pacifc albacore and Pacific bluefin tuna.
Pacific Bluefin Tuna (Thunnus orientalis) --- North Pacific
◊ Biological Profile
This species is widely distributed in the North Pacific Ocean and occured in the Southern Hemisphere with limited amounts. The juveniles have trans-Pacific migration analyzed by archival tags. Migration after spawning to the Southern Hemisphere has been also reported by pop-up tags.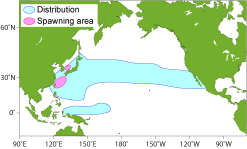 ◊ Fisheries for Pacific Bluefin Tuna in the North Pacific Ocean
Historical catch has been fluctuated in the range of 9,000~40,000t. Catch in 2009 was 20,000t (recent 5years average: 23,000t, historical average : 23,000t). Japan usually catches more than half of total catch, while until 1980s US also caught substantial amount. After 2000, Mexico and Korea increased their catch. By gear category purse seine catch always occupies more than half of total catch.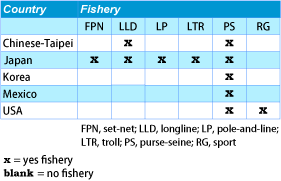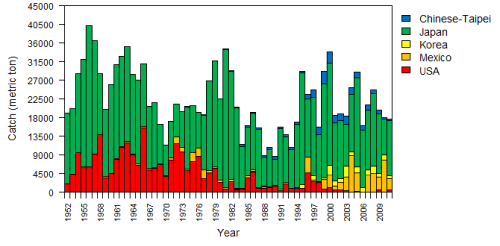 ◊ Stock Status and Conservation Information

Click here to see the latest information.
Latest Stock Assessment

Click here to see the information.
Working Group Reports and Working Papers
Working Group Vice Chair
Shuya Nakatsuka