Search this Site
ISC Schedule of Meetings
Billfish Working Group
Blue Marlin (Makaira nigricans) --- North Pacific
◊ Biological Profile
Blue marlin is highly migratory and their distribution is circumglobal in warm tropical and semitropical waters. Blue marlin are believed to comprise a single stock throughout the Pacific Ocean.
Blue marlin is fast-growing and the largest of the istiophorids. Females can attain maximum sizes around 900 kg, much larger than the maximum size of males, because female growth in length at age continues after male growth has slowed and becomes asymptotic.
Blue marlin are apex predators. Small tunas (skipjack, Katsuwonus pelamis) and bullet tunas (Auxis rochei) are major prey items, along with squids.
Life span

: At least 15 years
Maximum size: About 400 cm in eye-fork
length in the western and central Pacific Ocean
Maturity: About 50% at 5 years old
Spawning season: May-September
◊ Stock Status (From ISC13)
Estimates of total stock biomass show a long-term gradual decline from 1971-2005. In contrast, recruitment fluctuated without trend over the same period. The base case assessment model indicates spawning stock biomass decreased to the MSY level in the mid-2000s, and since has increased. The predicted value of the spawning potential ratio (SPR, the predicted spawning output at current F as a fraction of unfished spawning output) is currently SPR2009-2011 = 23%. The stock is currently not overfished and is not subject to overfishing relative to MSY-based reference points.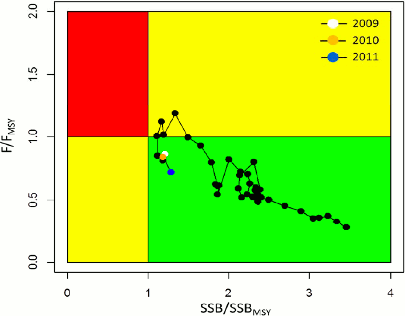 Kobe plot for blue marlin (Makaira mazara).
◊ Conservation Advice (From ISC13)
The stock is not currently overfished and is not experiencing overfishing. The stock is fully exploited. Stock biomass has declined since the 1970s and has been stable since the mid-2000s, with a slight recent increase. Fishing mortality should not be increased from the 2009-2011 level to avoid overfishing.